Tilly Harrison: Coordinator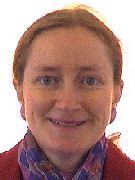 Tilly Harrison is currently a Senior Teaching Fellow at the University of Warwick where she is teaching on their new Masters in English Language Teaching and Multimedia, as well as EAP and undergraduate teaching.
She has taught EFL in Africa and Japan and ESL in primary and secondary schools in Oldham, UK.
After gaining an MA in Applied Linguistics at the University of Birmingham in 1995 she was a Research Associate there for three years, making Tim Johns' EAP (Grammar) materials into computer self-study tutorials with exercises to be available campus wide.
Tilly is a Mac enthusiast (with a beautiful new 12" Apple Powerbook!), although she is forced to use a PC at work!

Last updated: 24 October, 2004. URL: http://www.iateflcompsig.org.uk/tilly.htm